ACADEMIC PLANNING
BEFORE YOU GO:
Complete your Academic Plan.PDF (SP/W Programs: Due DEC 1, F/SUM/AY Programs: Due MAY 1)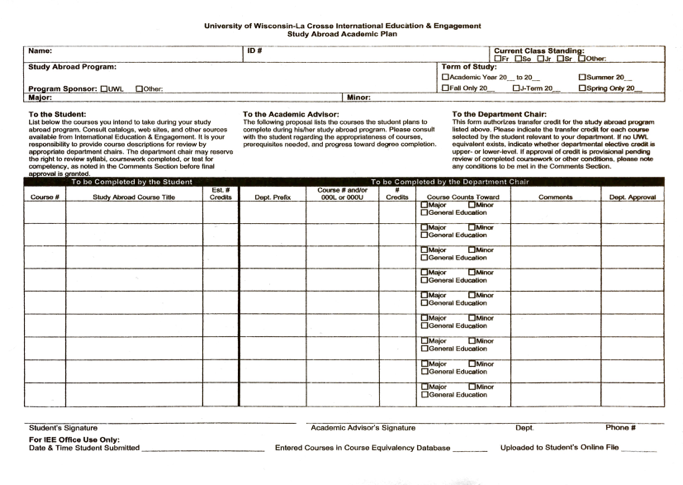 ---
Steps to Completing the Academic Plan:
Print/download the Academic Plan HERE>> Academic Plan.pdf
Meet with your academic advisor to identify courses from your major and/or minor that you are allowed to take abroad.

Keep in mind that you need to be full-time (12 U.S. credits) at UWL during your semester abroad if you are participating in a semester or academic year program.

Fill out your Academic Plan
Meet or communicate with Department Chair(s) to request approval of transfer coursework (provide both course descriptions from the institution abroad AND the UWL course you are requesting as an equivalent).

Note: E-mail approvals will ONLY be accepted if the student is currently abroad or after their program has ended. See section below about pre-approved course.

Department chair signs the approved coursework on the Academic Plan
Meet with your academic advisor, again, to discuss how transferred courses will fit into your program.

Your Academic Advisor also needs to sign your Academic Plan.
Note: If you are planning on taking a course abroad that is a prerequisite for a course you are planning on taking when you return to campus, you must get an override. If you do not get an override, you won't be able to register for that course for your return semester while you are abroad.

Submit your Academic Plan to IEE (be sure to get a copy and have IEE KEEP the original) at 1209 Centennial Hall or scan and email the form to international@uwlax.edu by the following deadlines:
Winter and Spring Programs: December 1st
Summer, Fall, and Academic Year Programs: May 1st
---
Pre-Approved Courses:
IEE has a "Course Equivalency Database" of courses that have been previously approved in the last 3 years.
If the course you are trying to get approved is in this database, then you don't need to seek approval. However, you do need to make a note under "Comments" on the Academic Plan stating that the course is on the IEE Course Equivalency Database and when it was approved (i.e. Approved spring 2018).
Your Academic Advisor still needs to sign your Academic Plan even if all the courses you choose are from our database and have been approved in the last 3 years.
Course Approvals Should be Listed as:
UWL specific course (ex: MKT341)
Upper/Lower Level Elective (ex: MKT000U)
or GNL 000U/L
Enrollment: No Action Required!
IEE will enroll you in UWL300 holding courses for the duration you are abroad!
Students participating on Faculty-led Programs will be enrolled in the actual course(s) by IEE
Potential Registration Issues:
HOLDS!
Current balance must be paid in full
Meet with your academic advisor to remove advising holds
Notes About Grades:
Grades count
and are NOT pass/fail.
Your grades will be converted to U.S. letter grades.
To view common grading systems in your host country, please visit:
https://www.foreigncredits.com/resources/grade-conversion/
---
WHILE ABROAD:
Make sure to attend classes and take final exams! (Sometimes you must register for finals)
Request transcripts!
Send one copy to IEE
Ask for additional copies for yourself

(Grad school, transferring out, etc.)

Grades will be posted the following semester
Register for the Following Term:
Don't forget to register for your next semester at UWL during UWL registration period!
An override form is required if you are taking a course abroad that is a prerequisite for a course you plan to enroll in the following semester
Submit override forms to your Dean's Office and/or Records & Registration prior to departure
---
ONCE YOU GET BACK:
Grades count! - and will come back at A - F letter grades.
Education abroad credits are considered transfer credits
Education abroad grades will factor into your transfer GPA and cumulative GPA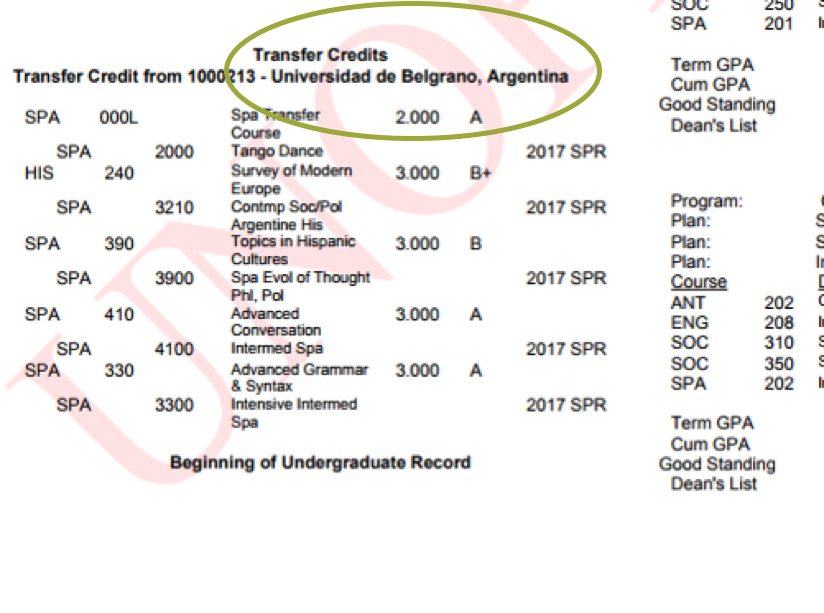 Students on Faculty-led Program:
Study abroad credits are considered UWL credits
Your grades will factor into your UWL GPA
---
FREQUENTLY ASKED QUESTIONS ON ACADEMICS ABROAD:
Q: What happens once I've completed my education abroad experience?
A: I'm so glad that you asked! This is the process:
1. IEE will receive your transcript* (be sure to follow-up with your host institution or program provider to ensure your transcript is sent to IEE. In some cases students MUST request a transcript or even hand deliver their transcript to IEE*).
2. IEE will evaluate your transcript and match your courses to your course approvals on your academic plan.
3. Once the evaluation is complete, IEE will forward your transcript and evaluation to UWL Records & Registration
4. Records and Registration will process your transcript evaluation and course will show up in student's TRANSFER CREDIT REPORT, located at the beginning of your transcript record.
Q: What if I took courses that I didn't get approved on my academic plan prior to my departure?
A: Students should contact IEE regarding any course changes/additions. Students can e-mail the appropriate Dept. Chair(s) to gain approval over e-mail while abroad or after they return. Alternatively, students can submit an additional academic plan with the new course approvals.
Q: What if I don't get course approvals for courses that I took abroad?
A: IEE will evaluate any course that weren't previously approved and award elective or general elective credit.
Example: BIO3450 Marine Ecology = BIO000U or GNL000U (electives are assigned 000L for lower-level courses and 000U for upper level courses). To avoid receiving general elective credit, we advise that students get all possible international courses approved prior to departure.

Q: Do my grades count while I'm abroad?
A: You Betcha! (yes). Grades will factor into your Transfer GPA and Overall GPA. All international grades will be converted into the UWL/U.S. grading system.

Q: How many credits do I need to take?
A: All students on semester programs need to be enrolled in at least 12 U.S. credits as students need to be full-time student standing.

Q: How do I know if I have enough credits?
A: International institutions have different credit systems. If you are unsure as to how many courses you need to be enrolled in, please contact IEE.
Example: UK Programs: 5-6 ECTS = 3 U.S. credits. 15 British Credits = 3 U.S. credits
AUS Programs: 10-12 = 4 U.S. credits.